lol
Insurances, Payments and Billing
Our policy regarding insurance, payments and billing is as follows: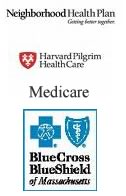 We accept assignment for covered services from patients having:
Medicare
Blue Cross/Blue Shield

Harvard Pilgrim

Neighborhood Health Plan


You are responsible for contacting your PCP (Primary Care Physician) and have your referral submitted to our office before your visit.
Payment is expected for non-covered services and products provided to patients other than:



Topical foot applications

Orthotics and padding

Deductibles

Co-Pays

Routine Footcare (trimming of nails and calluses)
Note To Medicaid Patients:
Medicaid only covers Podiatric services when referred by your Primary Doctor and when the treatment sited in the written referral is for the "life and safety" of the patient. These are their rules, not ours !
Note To Blue Cross Blue Shield, Harvard Pilgrim and NHP Patients:
Please check your plan to see if you need a referral from your Primary Care Physician.
Note To Wampanoag Tribal Health Members:
Please call the Tribal Health Program and let them know of your upcoming appointment so they can issue an authorization number.